"Yuzawaya Saketen" sells a variety of products. Japanese sake, custom made drink, fingar foods, daily use items, etc. Both Tourists who come to Yunishigawa and local residents frequently buy from "Yuzawaya Saketen"
1. Shop Information
Address: Yunisigawa 766 , Nikko city, Tochigi prefecture
Hours: 9:00~19:00 (Saturdays, Sundays and public holidays, it is open until 20:00)
Regular Day Off: It's off days are not fixed.
Tel: +81288-98-0423 (0288-98-0423)
Seats: about 10 people (Eating space)
Parking space: Accommodates 20 cars
There're some free parking lots around these areas→1. Nikko municipal parking lot (​ ​​ ​Google Map​ ​​ ​) 2. Yunishigawa town office (​ ​​ ​Google Map​ ​​ ​)  3.Heike-no-Sato Parking Lot (​ ​​ ​Google Map​ ​​ ​)
2. Item List
Because of its wide range of products, Some tourists especially from overseas might be confused by the nature of some products. I'll introduce some items so that tourists can know how to use, eat or drink them properly. Of course, "Yuzawaya Saketen" has many other items in the store.
甘酒(Amazake) A drink prepared from fermented sweet rice (Non- Alcoholic Drink)
平家ゆばの特製豆乳入り甘酒 Amazake with soy milk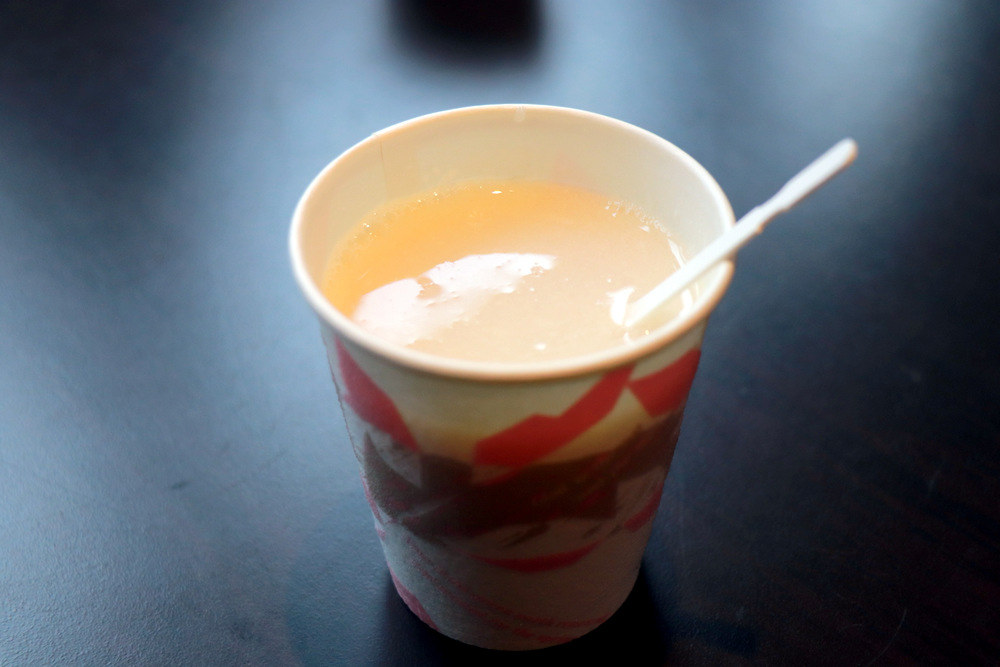 The soy milk which is mixed in Amazake is made from Heike Yuba(manufacturer and seller of Yuba in Yunishigawa)​ ​ It's smoother and easier to drink than any other Amazake. If you've never drank any kind of Amazake, you should try one here.
甘酒ミルク Amazake with milk
Mixing Amazake and milk gives a rich and creamy taste. It is also good for your health. Amazake contains an amino acid(GABA) and milk is rich in calcium.
酒 Alcoholic Drinks
"Yuzawaya Saketen" stock many kinds of alcoholic drinks. Perhaps some tourists might not be familier with some drinks in the store.
ゆずの酒(Yuzunosake) Citron Alcoholic Liquor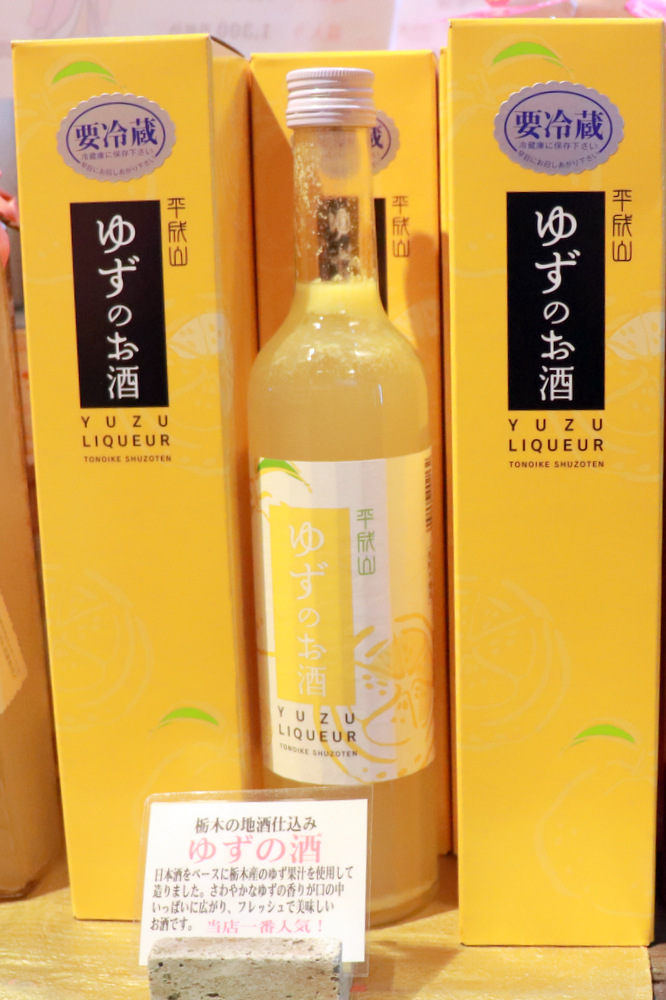 This liquor is a Japanese sake based alcoholic beverage that has added citron juice made in Tochigi prefecture. It has a fruity and fresh taste. Note that this drink needs to be kept refrigerated so it is not suitable for bringing it out overseas.
いちごのお酒(Ichigono Osake) Strawberry Alcoholic Liquor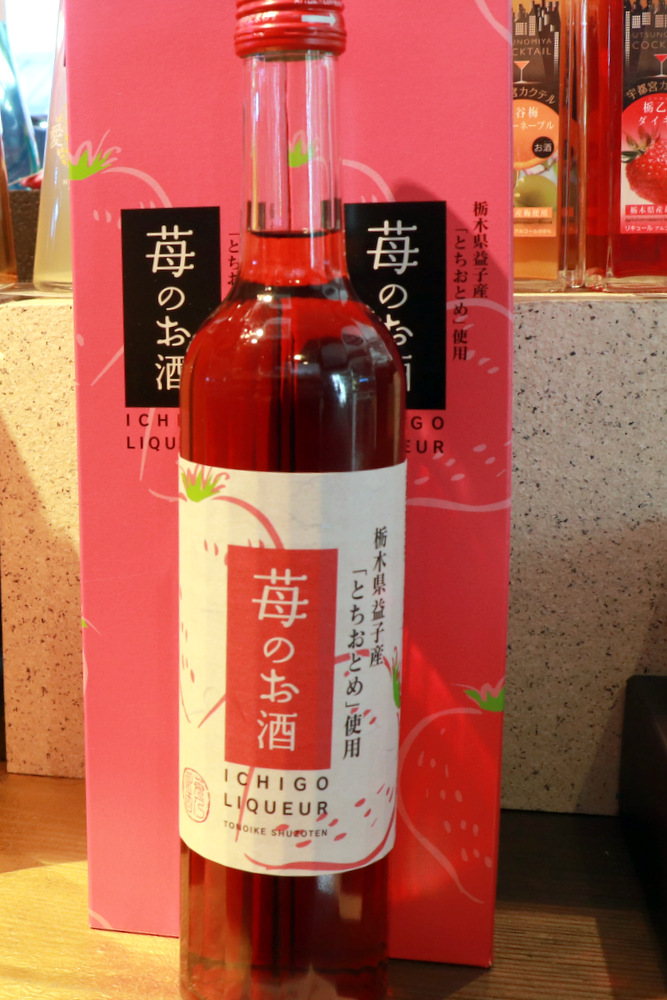 This liquor is a red wine based alcoholic beverage that has added strawberry juice. The strawberry that is used in the liquor is made in Tochigi prefecture and is named "Tochi Otome."  It has a sweet scent like strawberry jam. It goes well with vanilla ice cream or shaved ice as well.
いちごワイン(Ichigo Wine) A fruit wine made from strawberries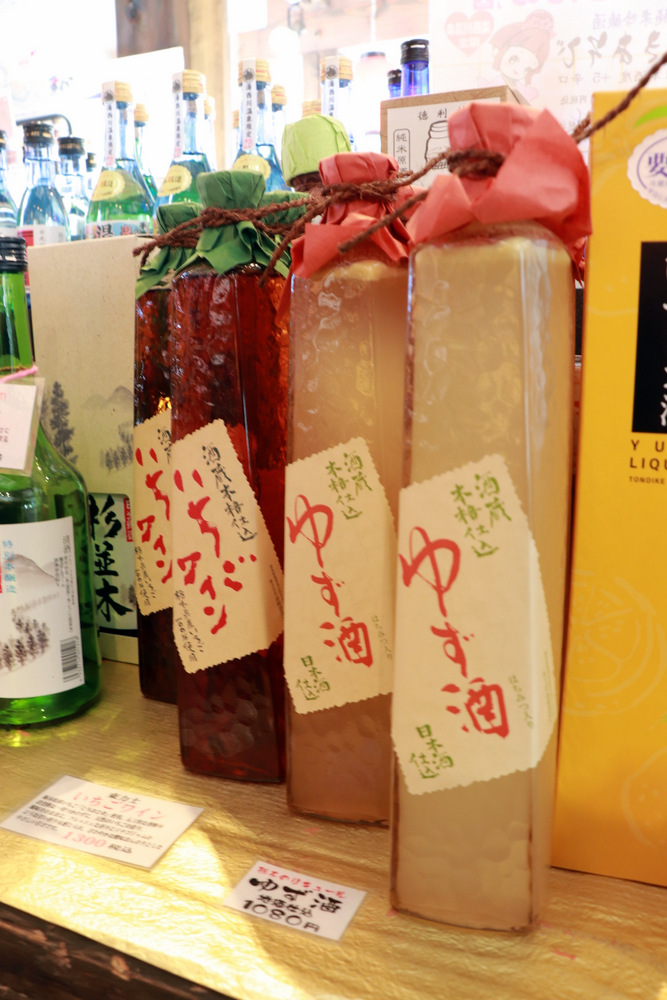 This strawberry wine is fermented alcoholic beverage made from strawberries as a base ingredient. Fruit wines have traditionally been popular with home winemakers in Western countries. But this fruit wine is made at Japanese Sake breweries. Wines that are made by taking advantage of Japanese sake techniques are sophisticated and delicate.
どぶろく(Doburoku)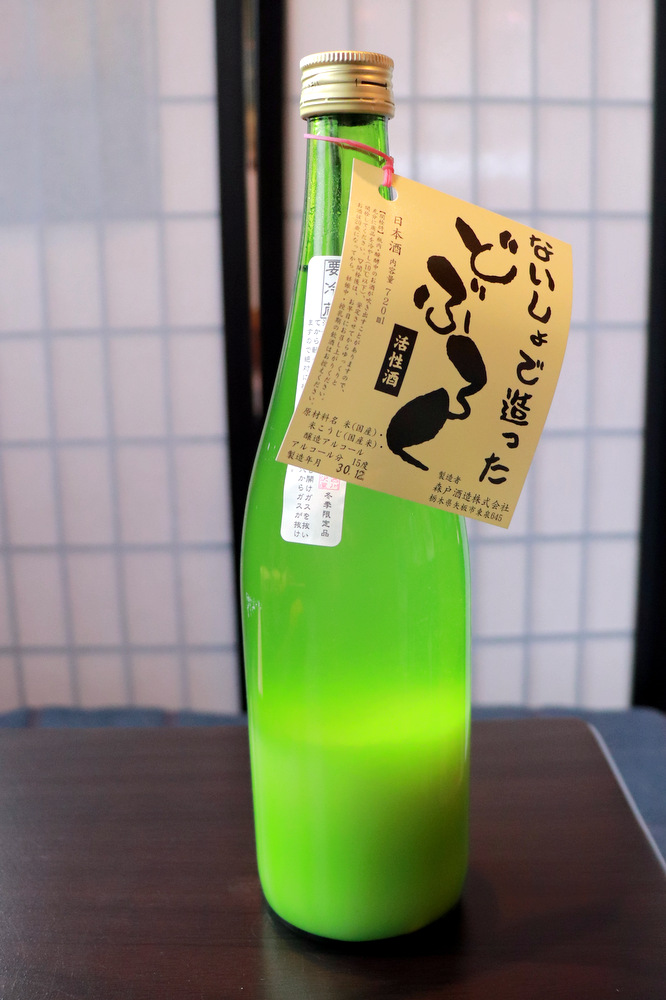 It looks white and cloudy, and it has a sweet and sour taste, topped with a little fizz. It is sometimes considered "Nigori zake (cloudy sake)" but Nigori zake and Doburoku are slightly different. Nigori zake is roughly filtered sake and Doburoku is unfiltered. So Doburoku maintains the shape of the rice more than Nigori zake.
Note that Doburoku is always fermenting even after bottling. You shouldn't lay it flat, shake it or drop it. It boils easily, so handle it carefully.
For the reason above, it is not allowed to take out Doburoku outside of Japan. You're not able to purchase Doburoku as a souvenir. Drink it as soon as possible after buying it please.
Fast Food
ゆばきゃん(Yuba Can) ¥350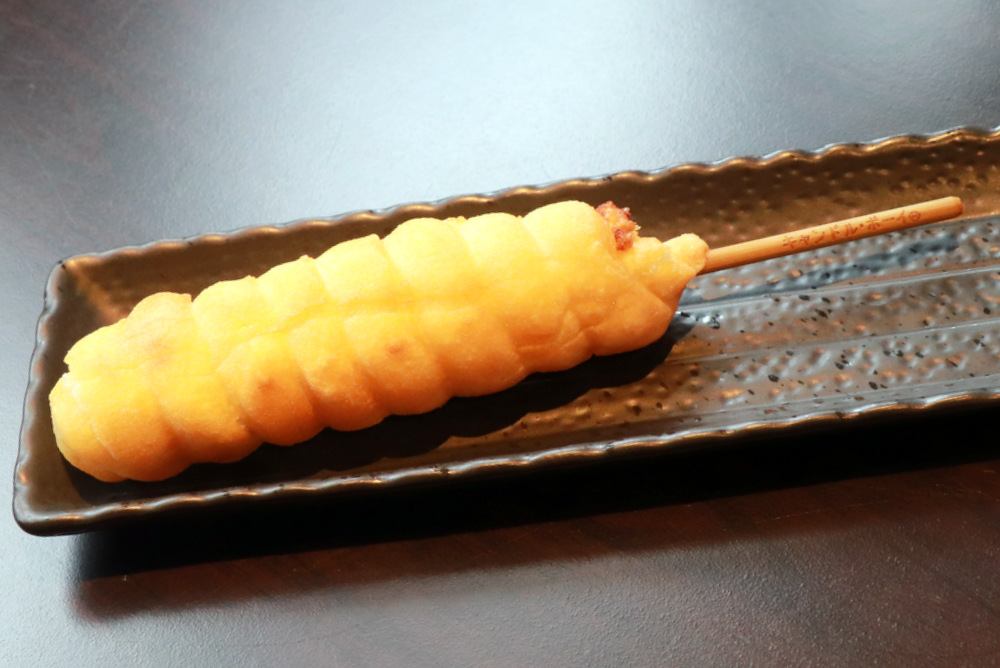 Yuba Can is a sausage on a stick that has been coated in a thick layer of rice cake containing yuba (tofu skin) and deep-fried.
You can choose your own topping.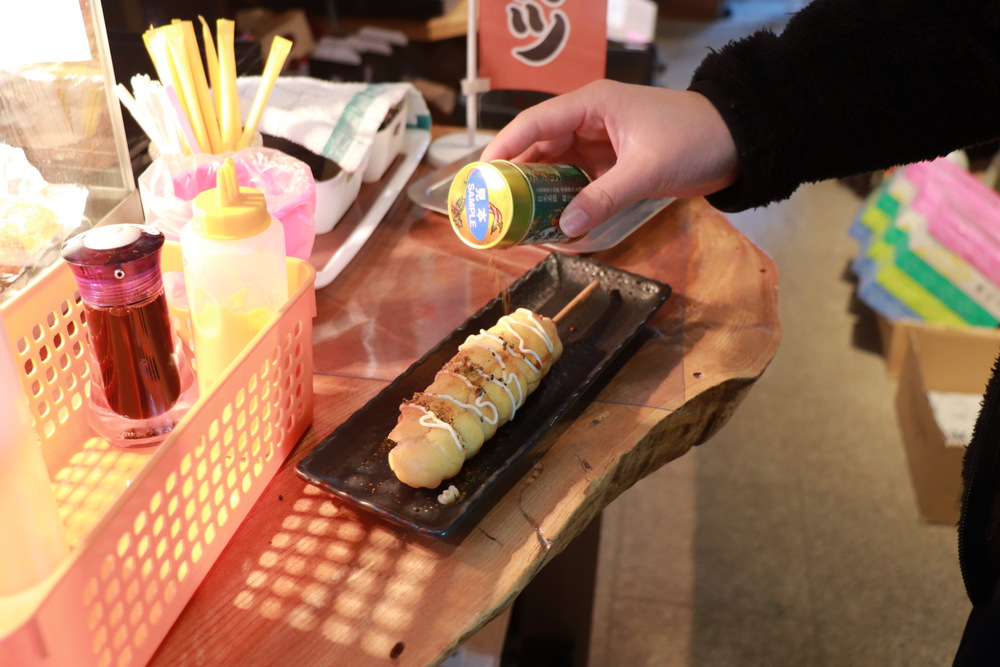 We recommend that you try mayonnaise, soy sause and ten-spice chilli pepper on it. Of course, you can try a different combination.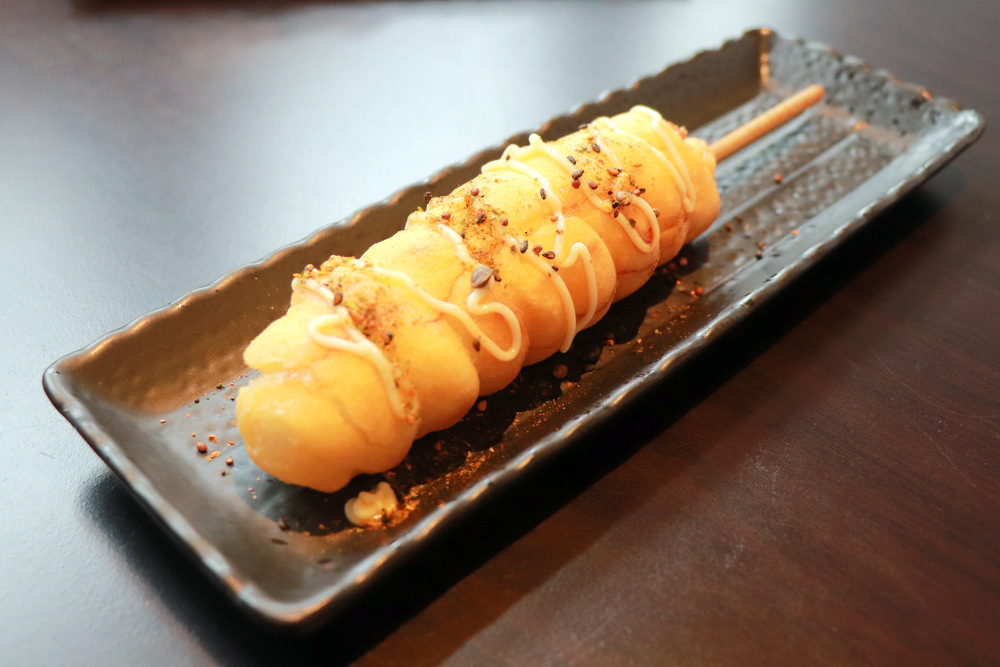 チーズハットグ (Cheese Hot Dog) ¥350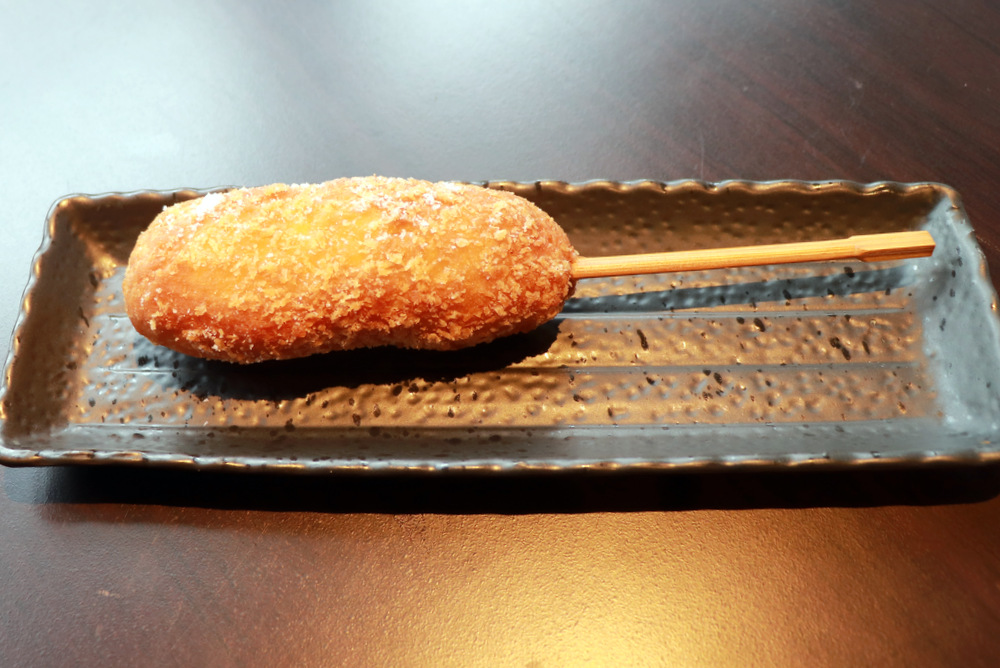 This is a Mozzarella Hotdog, which is the hottest  street food from Korea. Corndogs are called hotdogs in Japan and Korea. Once you bite it, the cheese starts oozing and stretching.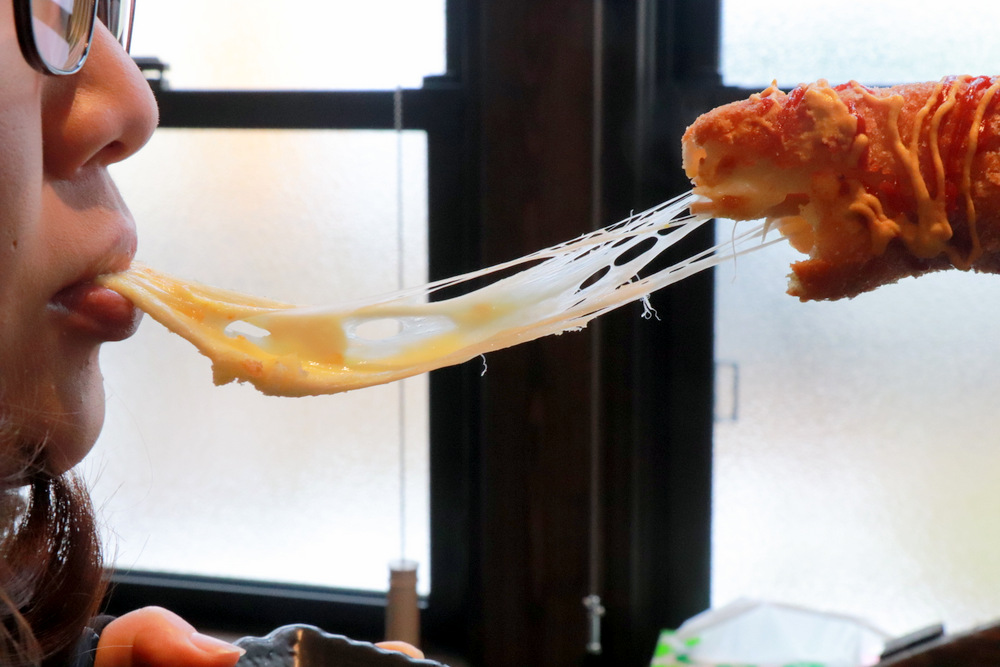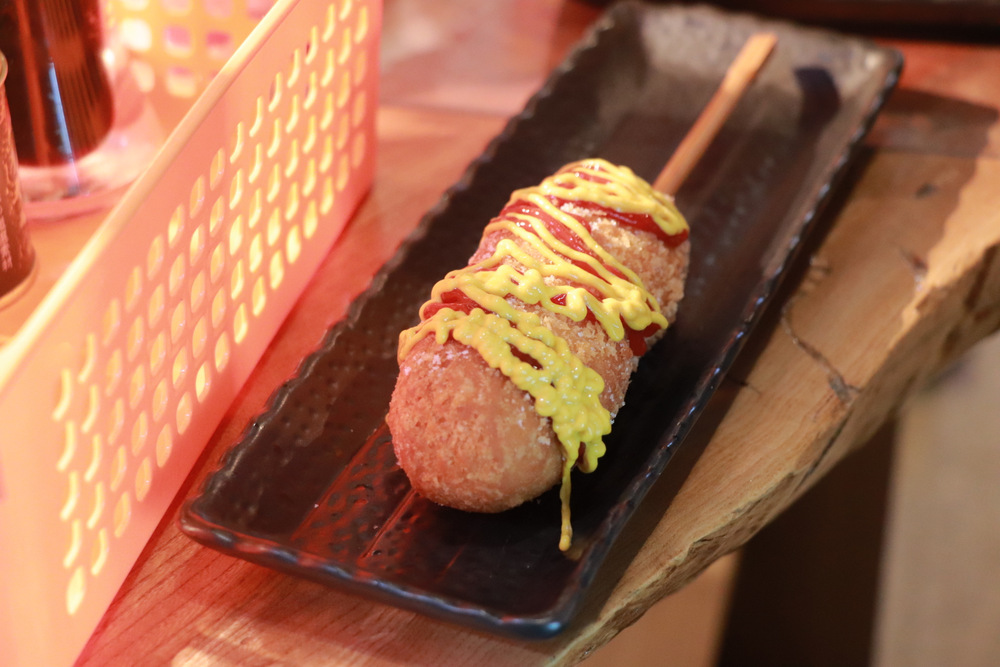 You can choose your own topping in the same way as with Yuba Can. We recommend topping it with mustard and ketchup.
ハムカツ (Ham Cutlet) ¥220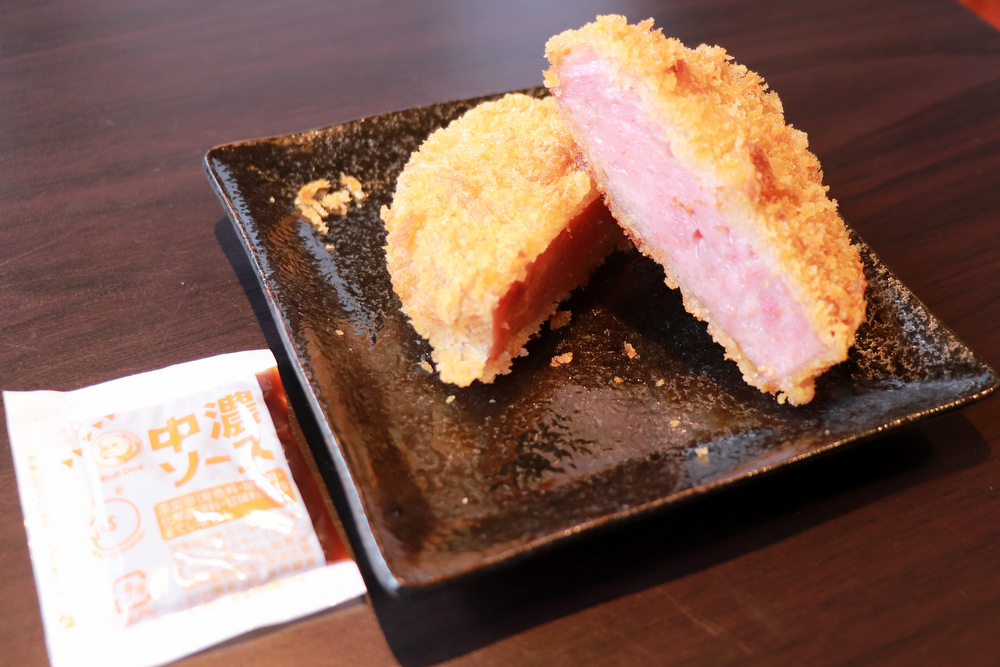 This Ham Cutlet is meaty and filling. This is perhaps two times thicker than general convenience stores' ones in spite of the low price.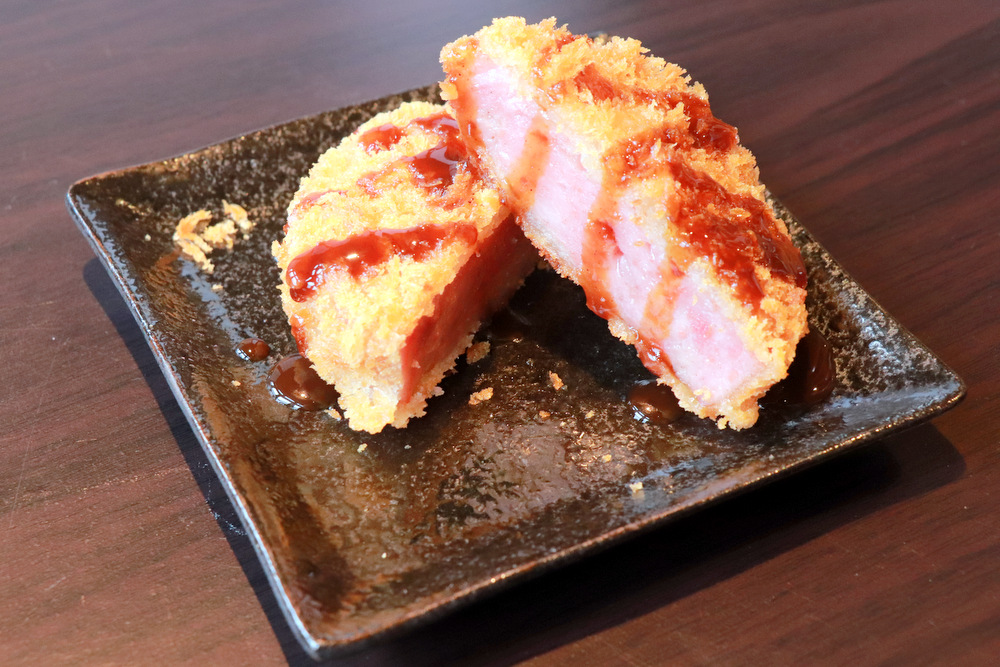 Souvenir
入浴剤(Nyuyokuzai)  Bath Salts
It feels like bathing in a hot spring in Japan when you use Japanese bath salts. The bath salts sold here are Yunishigawa original. You can experience Yunishigawa Onsen(Hot Spring) easily. One of Yunishigawa Onsen's notable qualities is giving a smoother and moist skin. Try using Yunishigawa bath salts especially for women. Happily, It's inexpensive and popular as a souvenir.
酒枡(Sake Masu) & お猪口(Ochoko)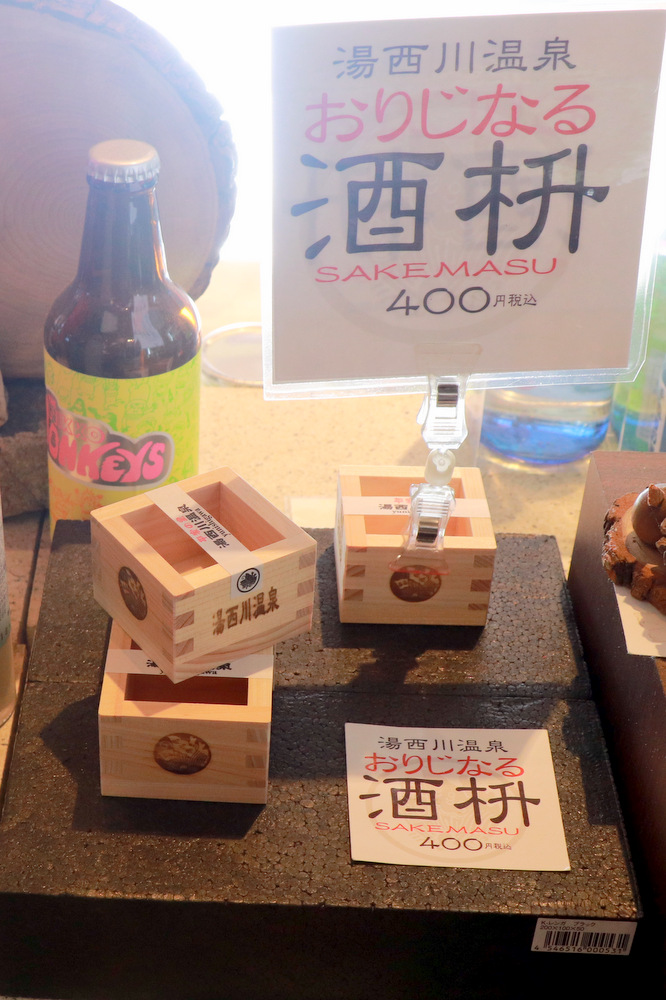 Sake Masu is a Japanese square wooden measuring cup used for serving sake. This store's Sake Masu are made by the owner. If you purchase Japanese sake, you definitely buy it with the sake to create a Japanese atmosphere.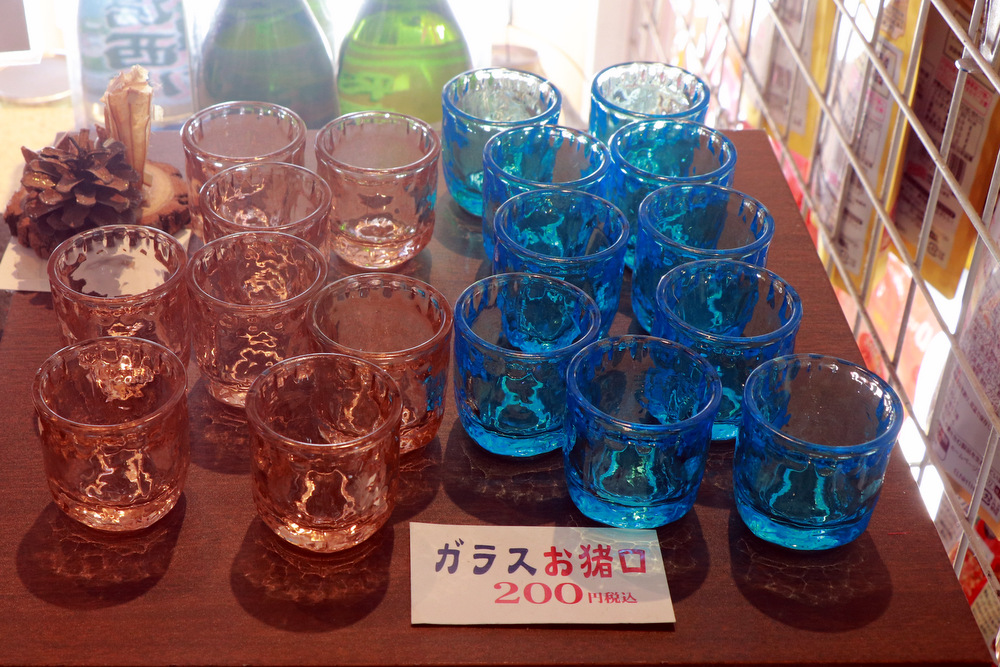 Ochoko is the cup used for drinking sake and is generally a small cylindrical vessel.
Japanese often use Sake Masu or Ochoko when drinking sake. Commonly, Sake Masu is used for drinking cold sake and Ochoko could be used for drinking any temperature sake.
薬膳十味唐辛子(Local Ten Spice Chilli Pepper)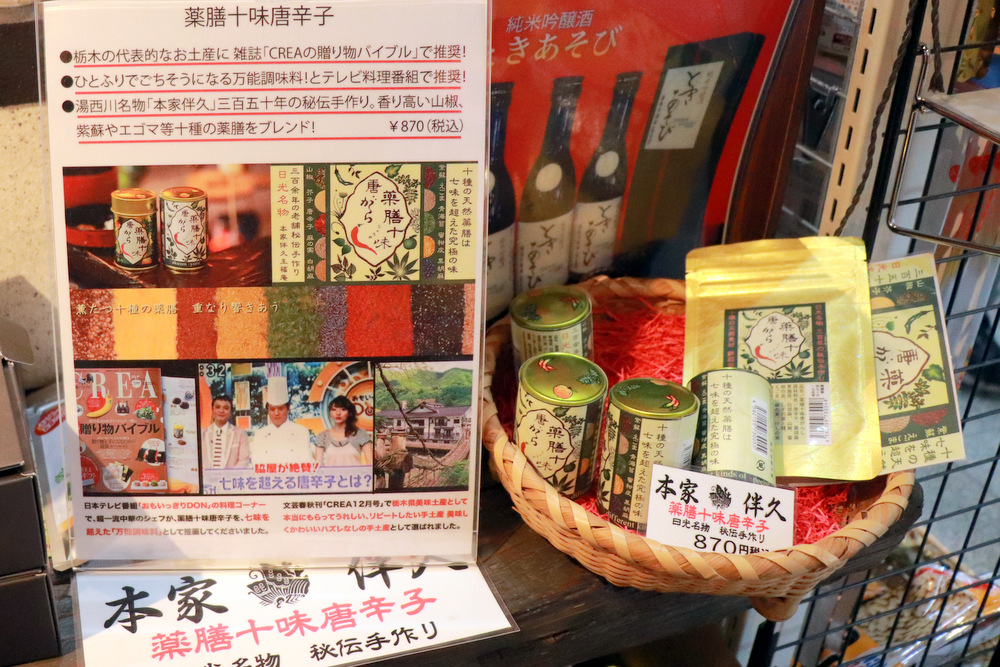 Japanese magazines and TV programs introduce this chilli pepper as Tochigi's representative souvenier and this is an all-purpose seasoning for Japanese food.
This chilli pepper contains aromatic Sansho(Japanese pepper), Shiso leaf, Egoma(Japanese herb), etc. Ten kinds of spices are blended together.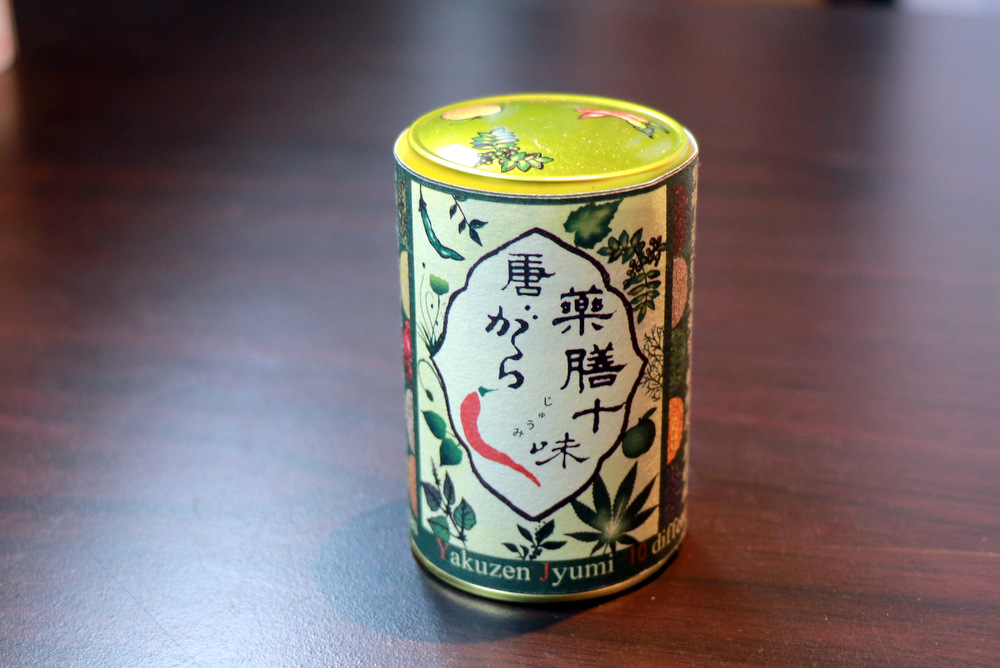 This has been produced for 350 years by Honke-Bankyu( a long established inn in Yunishigawa)
3. Yuzawaya Gallery
4.Access
How to travel between Yunishigawa Onsen and Tokyo (Japan-guide.com)
If you take a bus from Kinugawa onsen station, get off at Honke-bankyumae (本家伴久前).
5.Map